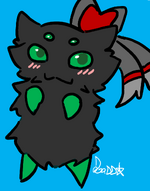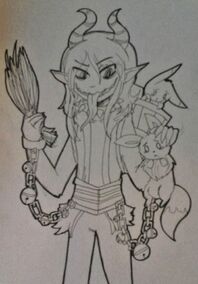 basscannon is a member of Route 50. She can be random at times, and enjoys puns. She claims to be a cannibalistic Joltik, but there is no proof on this.
Forms
Pokesona: A black Joltik with green eyes and feet wearing a red and gray Sylveon bow.
Persona: A girl with disordered black hair, green eyes, and glasses. Bass wears a black (and somewhat white) hoodie, black pants, grey shirt. Also a spiked collar, a red cloth tied around her left leg, and the bow she wears in Joltik form.
Krambass: Due to the Krampus movie, Bass decided to become the Krampus of Christmyste, hence Krambass.
Move-set
Glomp
Discharge
Electro Web
Bug Bite
Bug Buzz
Trivia
bass enjoys drawing genderbent
has a list of Route 50 members as food
sometimes calls MysteriousVaporeon, EmVee out of endearment.
bass loves morbid things, but dislikes most horror movies
she lives under MV's hat
SuperbSylveon is her real life little sister
probably a yandere (a level 1 at best)
Ad blocker interference detected!
Wikia is a free-to-use site that makes money from advertising. We have a modified experience for viewers using ad blockers

Wikia is not accessible if you've made further modifications. Remove the custom ad blocker rule(s) and the page will load as expected.