Route 50 culture led to the creation of a ficticious family tree several times over the years. This tree's structure has been maintained by Sparkleaf since 2010.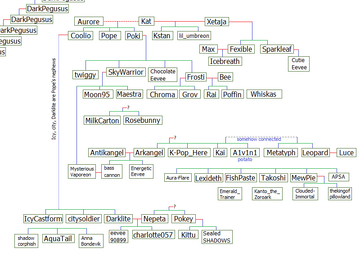 "Rebuild and Start Anew"
Every so often, people claim that the family tree is convoluted and needs to be rebuilt from scratch. However, the tree does have a relatively straightforward diagram, and is not as tangled as most people think. Most of the tree has been intact since 2011.
It doesn't help that Frosti trolls the family tree during her streams for her own amusement, every so often. Frosti's crack family trees are usually misinterpreted as serious attempts to rework the tree.
Mythos
Due to the sheer size of Route 50, the family tree is rather difficult for most people to remember. However, there remain several constants in the present-day family tree:
SkyWarrior, ChocolateEevee, Frosti, and Twiggy are sisters.
Xetaja is Sparkleaf's 

mother.

Fexible and Max are paired.

MV and AU are paired, with Vaporenumbreon as their child.
Frosti is Grov's father. (Don't ask)
IcyCastform and Darklite are nephew
SkyWarrior's children include Maestra and Moon95.
Sparkleaf's children include Seromi and Cutie_Eevee.
Original Family Tree
The first family tree was created by Max during the EHQ v3 era.
Everyone cheated on each other with Swotsy
Swotsy (Kstan) x Max
Swotsy (Kstan) x Bendy Straw (Creamsicle)
SkyWarrior x Rai
Frosti x Bee (children: Poffin, Rai)
Some elements of the original family tree have been retained to this day.
Ad blocker interference detected!
Wikia is a free-to-use site that makes money from advertising. We have a modified experience for viewers using ad blockers

Wikia is not accessible if you've made further modifications. Remove the custom ad blocker rule(s) and the page will load as expected.