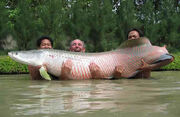 A feesh is a formidable slapping weapon made from a fish. First invented by ChocolateEevee, the feesh and its astounding powers of slappage quickly drew popularity from EHQ members- especially with starryslowpoke and Swotsy- and soon took its place in EHQ legend. The feesh remains a very popular choice of weapon amongst Route 50 members today, especially amongst its older members. The feesh should not be confused with the Feyesh, an enemy from SSBB's Subspace Emissary.
Ad blocker interference detected!
Wikia is a free-to-use site that makes money from advertising. We have a modified experience for viewers using ad blockers

Wikia is not accessible if you've made further modifications. Remove the custom ad blocker rule(s) and the page will load as expected.