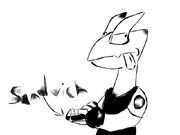 Kanto_the_Zoroark is a member of Route 50.
Kanto is a simple dude who enjoys playing Minecraft, Team Fortress 2, and Pokemon Y (when he's in the mood).
He draws a lot, and is getting much better at it.
Bio
Kanto is (as of now) in High School. However, he is able to get lots of free time to draw and play games. He is a tech person, as in, he is good with computers.
He enjoys drawing and does it all the time. He mostly draws Sonic, Pokemon, or other things from those genres. Kanto hopes to continue to draw, and also hopes that it doesn't get out of hand
Reputation
Kanto first got into Pokemon in 2nd grade, and Sonic in 5th grade. Though not as much of a Pokemon fan in 5th grade, his friend taught him a lot about them, and to this day, he can't ever give up on those amazing creatures.
One day, while working on his Sonic Fan Character (whose name is Shock), Kanto remembered that he had made, many Pokemon characters. He had been watching many Youtubers, and came up with the Shock Army. He really liked the name, and added all the characters that he had made at that time. But now, Kanto has kinda stopped with it, mostly because most of his characters are now forgotten. But, someday they will show up.
Like many others, Kanto has matured since joining the site. He recalls his previous days with embarassment:
One time... that tragic time... I had started going mad. I started to whine and complain to everyone... I had almost been erased... but then, I had given up for a while. I started to calm down since then, and then... that one, faithful day, I had shown up, a reborn entity! The second I had returned, I uploaded one piece of art, and Pillow had acknowledged my return, and welcomed me. That was the happiest day of my life.
Name
Kanto decided on his username one day while going through some old characters that he used to draw. He found one that he had not drawn in a long time: and that was Kanto, his little Zoroark buddy. He had been drawing him since 7th grade, but, somehow, had given him up. Kanto remembered the character one day, and started to draw him again. He began to like the character aagain, and changed his username (originally Captain_Zekrom) to match the character. Kanto recalls this moment fondly:
I had really liked the name change. I still do. It suits me. I wish I could change it in Minecraft, but, I will have to wait until that ONE update... it is coming, though. I really hope to stay part of this wonderful (and ever-growing) community of amazing people!
Ad blocker interference detected!
Wikia is a free-to-use site that makes money from advertising. We have a modified experience for viewers using ad blockers

Wikia is not accessible if you've made further modifications. Remove the custom ad blocker rule(s) and the page will load as expected.